I figure Christmas is kind of my favorite time of year, so why not make a comeback at the most appropriate time? Let me wipe the spiderwebs off Run Megan Run here and while I promise I'll do a quick post later this week about where I've been the last
FIVE
months, 'tis the season of Secret Santas, ornament exchanges, and all kinds of holiday fun - so it's time to bring this blog back to life and talk about some of my favorite things that you might want to give the runner in your life this holiday season!
Sparkly Soul Headbands - www.sparklysoul.com
If you follow me anywhere, you know I love my Sparkly Soul headbands (some of my most favorites are below). These no-slip, no-headache headbands are soft, stylish and have pretty much every color and pattern you could ever want - and they're still coming up with more! Right now, all orderes over $50 earn free shipping. The wides ($17) are my personal preference for working out, but I'll use the thin ($15) ones to dress up a ponytail when I don't feel like actually doing my hair. :)
It's wintertime, and winter means dark all the time. Okay, not really, but I hate. Despite that, I feel like safety only becomes a thing during these dark months, but there are products in place with runner safety in mind all year round - Road ID being one of those. Whenever I'm out on a run, my Road ID comes with me. Even when I do run with a phone, what happens if I were to get injured, or my phone battery dies? Someone can help you out. Prices range from $19.99 - 24.99, and you can add all kinds of fun badges to personalize and customize your runner's ID band.
Momentum Wraps - www.momentumjewelry.com
Also a new discovery to me this year, Momentum Jewelry has become one of my favorite sublte hints of motivation. Share a spark with a friend, buy one for yourself with your personal mantra or favorite saying, but know that these cute and functional little gems are all kinds of fun and your runner will love one!
They're running a few deals the next few weeks, so you have time to stock up and save on their weekly specials too!
There's no doubt that PRO Compression would be on my list of favorite things in the history of ever. I recently learned that my aunt loves them too - the lows for walking and going to the gym, but she also wears the marathon socks for long flights and international travel to keep her legs fresh! These socks are awesome - colors, patterns, designs, special Socks of the Month? You name it, they've got it. While there are a number of awesome designs and solids to chose from right now, be on the look out tomorrow for the release of the 2016 Ugly Sweater sock. You don't want to miss it, trust me.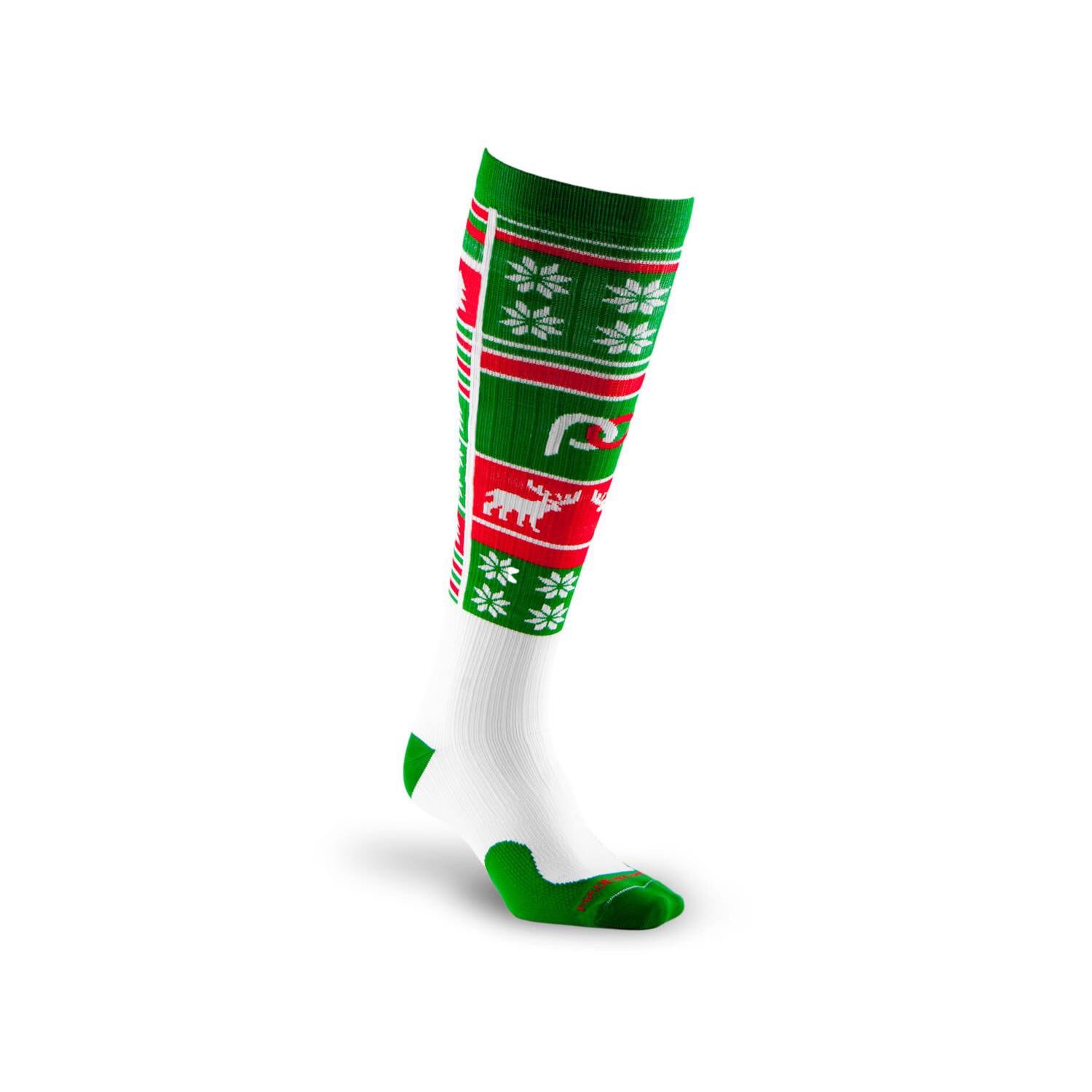 The 2016 Ugly Sweater sock! Who's in?
Abundant Heart Apparel
-
www.abundantheartapparel.com
I was introduced to Abundant Heart earlier this year and some of my favorite mantras this year have come from Jenna's designs. Not only does she carry some of the cutest, softest tanks ever in all kinds of colors and cuts, but you can do a totally custom order too.
Check out this one, another one inspired by Shelby and designed for me - but now you can get it too!

Gifts $50 and Up
Project Repat is one of my favorite finds from the past year - a company that started up in areas of the country (North Carolina and Massachusetts) where textile industries were dying off, in an attempt to restart the economy and create jobs for those who lost them. Amazing. How does it help you? Well, if you're like Doug, you're probably tired of seeing drawers overflowing or buckets and boxes of t-shirts bursting at the seams because this runner in your life can't keep count of how many shirts they own, and better yet - do they ever wear them? I rarely wear mine, and even if I do, I definitely have some favorites over others. Enter Project Repat. Purchase a blanket for your runner, and they can pick and choose which shirts to send off to be made into one of these beauties:
I've had one blanket made of t-shirts from my undergraduate life in my office (it's a great conversation piece!) and am working on a second queen size of running and race t-shirts that I can't WAIT to share with you!
Race Entries
Find out if there's a huge race on your runner's bucket list that you can help cross off. Or even if they've entered, maybe you can help with some of the travel costs (assuming it's a destination race from wherever you are). Help them pay in part of their entry. While it may not be a surprise, feel free to ask and find out what their dream race would be that you can get them into and help them with their 50 states quest a little at a time!
Gift CertificatesLet's be real, running ain't cheap. Between shoes, and gear, and race entries any of the fun stuff I've mentioned above (needs v. wants aside!), it's not a cheap endeavor!
Find out where your runner loves to shop, whether a local favorite running store or online shop, and help support their healthy habit!
What's on your list this year? Happy shopping!