Tuesday night I got home from work and was supposed to head out for an 80 minute aerobic (re: easy) run. I had
nailed
my 70 minutes the Tuesday
before
, so I figured 80 minutes was a walk in the park and it wouldn't be hard. It'd been a long day at work, and I should have gotten my run in before the sun was up, but whatever, life happens.
I got to the gym at the apartment complex and ready to go. The fans were on high, so I tried getting them to shut off. The janky remote wasn't doing anything, so I figured that I'd deal with the cold until I'd warmed up, and then I'd appreciate it. TV wouldn't turn on, so I tried to watch some Friends episdoes on my phone. I was so defeated already (from fans and a TV!) that I covered up the treadmill screen in the hopes that I'd forget how far I need to go.
Wrong.
16 minutes in, I was over it. Done.
I went home and called it quits.
There are lot of things that I can attribute - the gym was super cold, the TV wasn't working, it was that time of the month, long day at work... but let's be real. Mentally, I just wasn't there. I looked for any reason to call it quits and just be done with it. So I was.
After the baller week I had had the week before, I went in with a lot of confidence and this run (or lack there of) just totally knocked me off that confidence wagon for the rest of the week. Yoga on Wednesday felt like a "I have to go..." rather that an "I get to go..." (no regrets though, that felt amazing!). Doug practically pushed me out the door to go.
So when I got to last night's run at Fleet Feet, I was really wanting to knock it out of the park. 45 minutes at race pace (8;30 pace) seemed totally do-able and I really wanted to make it count - and especially make up for Tuesday's craptastic treadmill defeat.
Sandy
joined me and helped push me a bit for 5 miles at exactly an 8:30 pace overall, and crushed the last mile in 8:06.
Boom.
Carlee
wrote a few weeks back about having a
positive outlook
on your fitness, and sometimes it's just that. You need to go in with the positive attitude to make the workout
work
! I just told someone the other day too that sometimes these bad runs keep you humble - the bad runs make you appreciate the good ones even more! An awesome week followed by a bad week reminds me that I'm only human and I can only do so much. And then it's upwards and onwards to the next week and ready to kill the next workouts.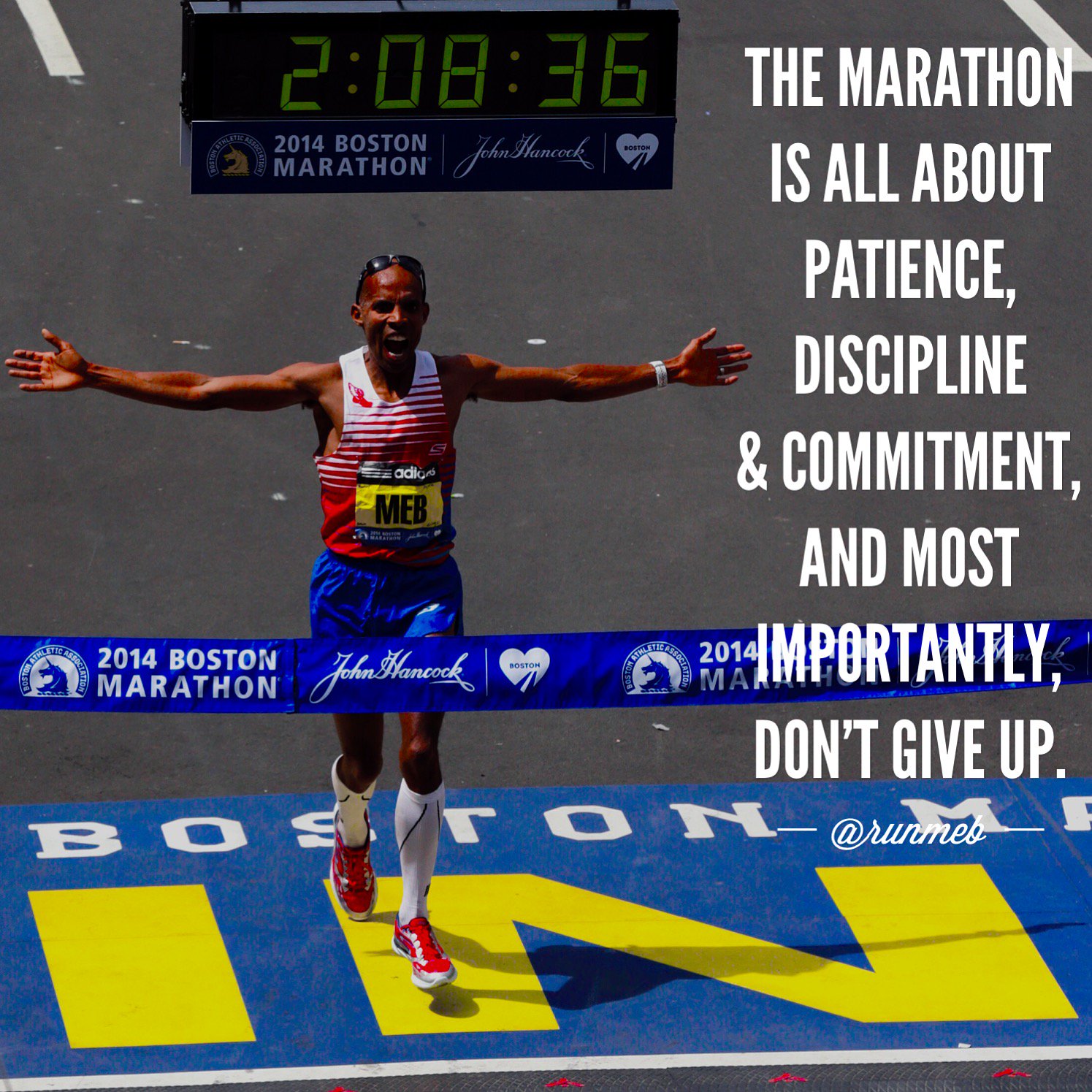 But as my friend Meb says...
How do you move past those bad runs?